Our Store!
Upside Right CD
Randi's newest release, for a limited time, only available here! Purchase includes CD, signed postcard, stickers. and free shipping.
"Hug a little longer..." stemless wine/ water glass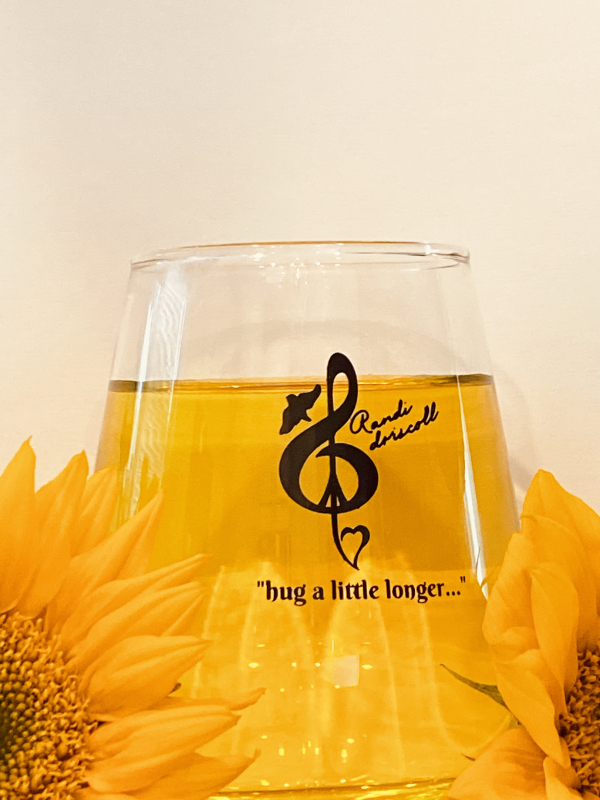 A beautiful 6oz glass with Randi's peace/dove logo and the words "hug a little longer" perfect for sippin' and hummin'
Randi's Revival Hat
Trucker hat, with embroidered logo for Randi's bi-weekly writer's night, in Nashville TN, Randi's Revival.
Glass Slipper CD
Randi's latest CD produced by Grammy winner Larry Mitchell, and Noah Heldman, featuring, Cinderella Left The Ball, The Rest ( Featuring Grammy winning cellist Dave Eggar) and Surrender ( Duet with Country singer, Aaron Parker) and more.
Randi Driscoll Coffee Mug -
White coffee or tea mug with treble clef and heart logo~! Drink you java with good vibes
December- Vol. 1 Randi Driscoll
Randi's Holiday CD featuring her original songs, Christmas in L.A., Faith, and While You're Sleeping and Christmas Classics - The First Noel, What Child is This, Angels We Have Heard on High/ Hark the Herald Angles Sing) and more...
Randi Driscoll Mason Jar
Glass mason jar with beautiful Randi Driscoll logo, perfect for hot or cold drinks. ( hand wash only)